Urban jungle feeling or classic design
with forest and pole moss - with our custom-made moss and plant walls we create a feel-good atmosphere that does not require any maintenance or watering. Whether in the office, in the hotel lobby, in meeting rooms or in your own four walls. Inform now!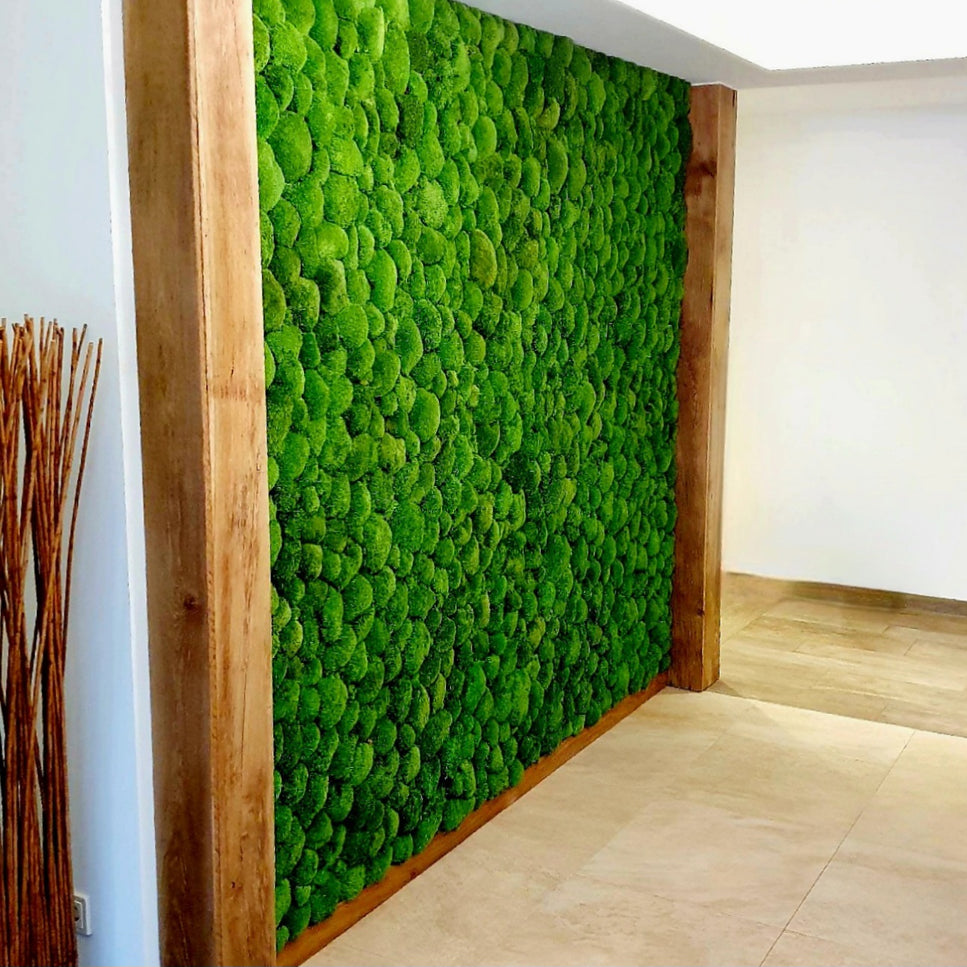 Custom-made moss pictures
We can do that! Why? Because we are a well-rehearsed team of creative moss designers and experienced carpenters. Together with you we implement individual moss pictures or entire walls with moss and plants with and without logo integration . We have already implemented many unique projects throughout Germany, France, Austria and Switzerland. Our products are already adorning restaurants, medical practices, business premises and open-space offices.
Our moss picture creations, which are individually made for you, are not only a visual highlight, but also save time and resources, since maintenance activities such as watering and dusting are no longer necessary.
This is sometimes a great advantage, especially for allergy sufferers.

Curious? We are happy to support you in the planning and implementation of your "green wall"!
Your advantages at a glance
individual implementation

For our plant and moss pictures and green walls, we use 100% real plants and mosses , which are lovingly handcrafted into your individual moss picture made to measure with or without logo integration.

no maintenance, no follow-up costs

Due to the gentle preservation, our finished moss pictures and green walls do not require any care, sunlight or maintenance. This leads to an average cost saving of around 75% compared to a living wall.

good for the room climate & allergy-friendly

Our products not only have a positive effect on the room climate by absorbing or releasing moisture, depending on the humidity in the room, but are also suitable for allergy sufferers, as the preservation means that the plant can no longer bloom.

noise reducing

Our products are proven to reduce noise and can achieve up to 60% sound absorption. In addition, our mosses are certified as non-flammable according to the B1 fire protection certificate and can therefore be integrated into any interior without hesitation. You can download the certificate here.
Moss pictures, green panels, modern room dividers or stylish moss balls
moss pictures

A green (office) environment is an important feel-good factor that can have a positive effect on concentration and productivity. A piece of nature in the office lets your thoughts wander for a moment and then helps to regain your attention. Our green works of art made from real preserved mosses and plants thus combine nature in the office with innovative and sustainable room design.

wall panels

Our moss panels on MDF boards are just the right thing for you for particularly large green walls that you may also want to assemble yourself! Flexible design options, with different greening options, as well as free design on the wall. Arranged symmetrically or asymmetrically is up to your creativity and your wealth of ideas.

room divider

Open-space offices are becoming more and more popular, but with them the ambient noise increases and privacy also decreases. With "green room dividers" you not only separate different areas from each other, but also ensure a pleasant room atmosphere, which also has a sound-absorbing effect.

moss balls

It doesn't always have to be a classic picture or an entire wall. Soundproofing and design are also possible hanging from the ceiling and round. Our reindeer moss balls are not only available in different colors, but also sizes. In this way, you absorb the ambient noise and demonstrably reduce the noise level for concentrated work, an eye-catcher in the lobby or simply as a design object for the home.
that's how it's done
From the idea to the finished picture
Would you like to integrate a unique moss wall or great moss pictures privately or in your business premises? But you still don't have a clear idea of ​​what your interior will look like? No problem! We have the opportunity to virtually insert different ideas into your rooms. Simply send us a photo (if possible from the front) of your wall (including dimensions HxW) and we will create up to three suggestions for you free of charge.
We would be happy to advise you on site!
How is your unique piece made?
For custom-made products, we work together with various regional carpenters, who then, in close consultation with us, will make your desired frame size, frame color and/or your logo or slogan come true.
Our service for you
As an experienced and well-rehearsed team, we are at your disposal with an all-round carefree service. That means from the telephone to on-site advice, project visualization and production, as well as delivery and assembly of your individual (large) project, we are there for you!

Be inspired by our greening options, the various edge finishes and our gallery!
We look forward to your inquiry
Your Moser team - the green wallart!
Greening variants & edge finishes
forest and pole moss

The combination of forest and pole moss is ideal for wall and ceiling greening , but special shapes and logo integration can also be easily implemented. The design can be done selectively (approx. 80%/20% flat moss/ball moss) or gradually (approx. 50%/50% flat moss/ball moss).

pole moss

Pole moss walls impress with a unique 3D effect and the soft feel of the pole moss and are particularly effective in puristic environments. Logos and/or slogans can also be integrated here.

plant islands

Plant islands made of ferns, eucalyptus and other naturally preserved plants and flowers form visual highlights on a background of flat forest moss with individual pole moss accents. Bring nature into your home, office or reception area.

reindeer moss

Due to its wide range of colors, reindeer moss is particularly suitable for very complex designs.
In addition, the sound insulation is the highest here and up to 60% of the sound is absorbed. So it is ideally suited for rooms with an increased noise level. It also has a moisture-regulating effect and is therefore also suitable for interiors with higher humidity such as wellness or spa areas .

framed edge

Choose your frame color individually. The frame has a height of 35 mm and a visible edge of 12 mm. The moss thus retains its visual effect and does not sink into the frame. The frame is finally mounted directly on the wall.

green edge

The greening of the edge conceals the transitions and the result is a natural overall picture.

unframed edge

This variant is ideal for installation in objects, suspended ceilings, walls or furniture. The edge of the 12 mm MDF carrier material can be seen.

logo design

With logo integration, moss walls or images can be individually personalized. Milled wooden letters that are filled with moss or lettering - we try to make all logo requests come true.