100% handmade ...
... we make them all in our own small factory in Walldorf Moss and plant image creations yourself.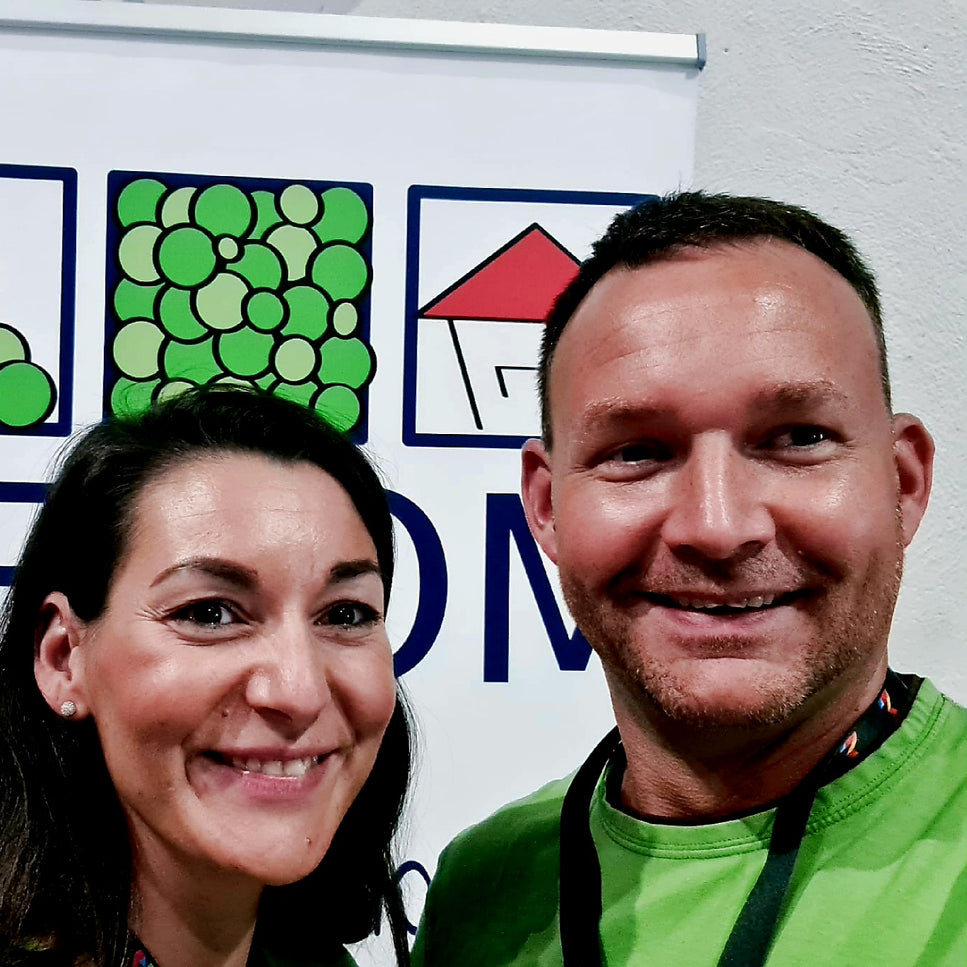 Hello, we are...
... Sven Moser, owner of the company Moser-the green wallart and Tanja Westerholz, creative head and right hand of the boss.
Creativity, absolute dedication in our work on each individual picture and commitment are our top priority. This is how we combine art with craftsmanship and create evergreen murals for the interior!
It all began more than ten years ago when Sven started his gardening and landscaping business and has been based in the Rhein-Neckar district ever since. We now combine green space maintenance and tree pruning with innovative wall greening in the form of moss and plant images.
from small works of art to large projects

The first smaller moss pictures were created with the help of a wooden spatula and a simple glue gun and a lot of creativity . These small "experiments" quickly became larger works of art. We also found that the moss can be used not only as a decorative small piece of art, but is also suitable for entire walls and panels. In addition, moss-covered areas are not just beautiful to look at, but also ensure a pleasant indoor climate, among other things.
With these exciting findings , a completely new, independent area in our company developed bit by bit - the INTERIOR design with innovative and creative moss, plant and flower walls.

Moser Gartenbau eventually became

Moser - the green wall art!

naturally preserved

The plants and mosses that we use for our products are cultivated and grown on certified farms. With a lot of care, the plants and mosses grow there until they are optimally ready for harvest.

The plants are kept permanently beautiful through natural preservation . In an exchange process, the water in the plant is replaced by glycerin and the chlorophyll by food coloring. The preservation process, which was patented in 1984, does not require any chemical substances.

In order to achieve an optimal end result, the plants are harvested at the peak of their life cycle. In a preservation chamber, the juice of the mature plants is replaced with a liquid mixture of glycerin, water and food coloring. Only natural materials are used for the multi-day exchange process.

Our moss species

We work with the three most popular types of moss - flat forest moss, pole moss or ball moss and reindeer moss, which is actually a lichen. All types of moss have their own peculiarities.

The flat forest moss grows on soil, trees and wood, among other things. Both flat areas and the high mountains are part of its usual habitat. It forms densely woven cushions in which pine needles, seeds and the smallest twigs can hide. This cushion absorbs and dampens ambient noise. Flat moss often forms the basis of our moss pictures or is processed in combination with pole moss.

The raised pole moss is often referred to as the "queen among the mosses" because the hilly shape results in a special 3D look that is clearly visible from every angle. Another important fact: pole moss absorbs pollutants from the air over its entire surface and thus filters fine dust from the air.

Strictly speaking, reindeer moss is not real moss, but a lichen. It reduces noise by up to 60% and is therefore ideal for particularly sound-absorbing purposes. It is also available in many different colors and offers even more creative design options.

100% handmade

In our own small manufactory in Walldorf we produce all moss and plant picture creations ourselves. We also glaze our hexagonal wooden circles ourselves. For our standard range, we trust our regional joinery from the Kraichtal.

So after we have received your order, we get to work. Depending on the order situation and the complexity of the picture (size, type of greening), it can take between 3 and a maximum of 14 days for your moss/plant picture to reach you. As soon as it is on its way to you, you will receive a shipping confirmation from us.

Since the plants and mosses are natural products and are just as individual as you and I, not every moss picture looks the same and can therefore differ slightly from our product photos.

Each moss picture is absolutely unique!