Design your DIY moss picture in a two-hour workshop under professional guidance with all materials and creative like-minded people.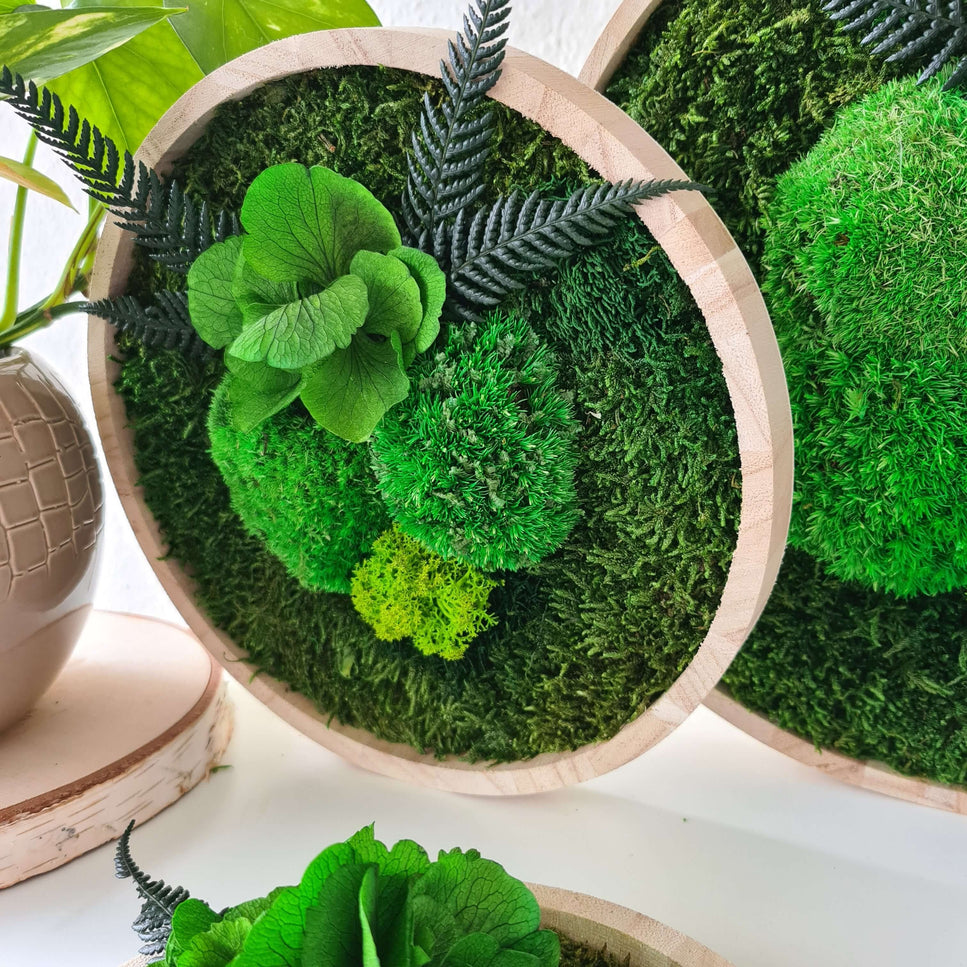 Team building with a difference...
There are a variety of ways to promote and shape the team and the cohesion within the team.
So how about if we join your team and visualize ideas, creativity, work processes and above all togetherness in the form of a self-designed moss picture?
This is how you create a unique memory of a joint event and by using only natural products in the form of real flat moss and pole moss, we bring a piece of nature into your company. The mosses are preserved particularly gently and without chemical substances and therefore still have their beautiful, fresh appearance and do not require any further care afterwards.
In order to make your event a great team building memory, we work within your team in small groups with a maximum of five people. This is how you design your very own moss frame! So get out of everyday work and into a creative experience with friends and colleagues!
In our workshops we offer you the opportunity to become creative yourself for about 2 hours. Choose from different frames and design your own individual, maintenance-free moss picture in a cozy atmosphere! Or create a larger picture together in small groups!
In addition, we explain everything you need to know to create your moss picture and also have interesting information about moss for you.
selbst gemacht & immergrün
Um Euren Event zu einer tollen Teambuilding-Erinnerung werden zulassen, müsst Ihr Euch um nichts kümmern, denn wir bringen alle Materialien mit. Also raus dem beruflichen Alltag, rein in ein kreatives Erlebnis mit Kolleginnen und Kollegen!
In unseren circa 2-stündigen Workshops bieten wir Euch die Möglichkeit selbst kreativ zu werden und verraten Euch viele interessante Informationen rund ums Moos.
Wählt aus verschiedenen Rahmenformaten und gestaltet in gemütlicher Atmosphäre Euer ganz individuelles, pflegefreies Moosbild! 
In Kleingruppen (max. fünf Personen) gestaltet Ihr gemeinsam ein größeres Bild. Dafür haben sich in der Vergangenheit die Maße 100x60 cm oder 140x40 cm bewährt. Diese passen zudem in nahezu jede Räumlichkeit.
Oder Du gestaltest dein eigenes kleineres Moosbild in einem runden (ca. 30 cm Durchmesser) oder eckigen (ca. 40x20 cm) Holzrahmen.
Eurer gestalterischen Fantasie sind dabei keine Grenzen gesetzt.
WIR FREUEN UNS ÜBERE EURE ANMELDUNG!
How is your event going?

In the past, the format of 100x60 cm or 140x40 cm has proven itself for almost any room and also gives the opportunity for three to work well on a frame. Of course, a single small moss picture can also be designed.

In the approximately two-hour workshop you choose and design your frame according to your wishes and ideas. For example ball moss used selectively or a wave-like course or, or, or - there are no limits to the imagination.

We explain everything you need to know to create your moss picture and also have interesting information about moss for you.

Which costs arise?

the price p. P. is 95€ and includes all necessary materials:

• Sufficient moss for a picture measuring approx. 30x30 cm, 40x20 cm, or a round picture with a diameter of approx. 30 cm
• Sufficient material for a group picture measuring 100x60 cm or 140x40 cm
• Wooden frames in different colors
• Tools such as brushes, spatulas and glue
• our moss know-how
WIR MÖCHTEN EINEN WORKSHOP BUCHEN
NUTZT UNSER KONTAKTFORMULAR UND WIR SETZEN UNS GERN MIT EUCH IN VERBINDUNG.
Eindrücke unserer Workshops